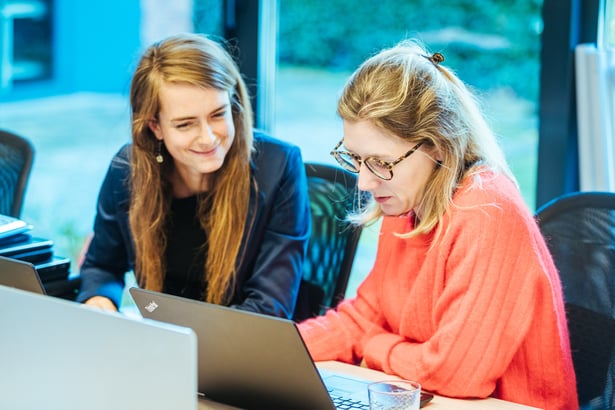 Get it right at every stage of the employee lifecycle
Winning organisations are attracting, developing, inspiring and engaging employees to perform at their personal best. Motivated and culturally-aligned employees, which are equipped with the right processes and tools, deliver exceptional experiences at every interaction.
Möbius guides you in getting it right at every stage of the employee lifecycle to maintain an engaged workforce which is competent, collaborative and connected.
Your challenges, our expertise
Employee Experience
Employee Experience is driven by an honest-to-goodness intention to foster relationships and experiences with each other and with customers. Creating happy employees makes happy customers.
We help you monitor employee experience and introduce successful engagement programs.
Change & Communication
We all want change but nobody is willing to change. Dealing with and organizing change is an essential competence in every organization.
We help you create an "open climate" for change, innovation and success. We implement programs and frameworks that foster an agile and resilient workforce by combining our change and communication skills.
NWOW & Knowledge
We help implement New Ways of Working (NWOW) by striving for a perfect symbiosis between the physical, digital and mental workplace.
Inherent knowledge is standardized and available. Knowledge is accessible anytime, anywhere from a single 'true' source and is easily found. We implement programs and frameworks to sustain your knowledge, both implicitly and explicitly.
Personal Development
We shape powerful personal development journeys and interventions.
Our certified coaches support your leaders, teams and employees to get the best out of themselves. We guide them to achieve their personal professional goals more effectively and quickly.
Collaboration
We use proven recipes to build high-performance teams and to facilitate meeting in such a way that it becomes a special, inspiring and effective experience.
We coach teams, at every level, to manage their own work. Increasing autonomy, empowerment and overall performance.
Organisation design
The number of ways to structure your organisation is no longer limited to a traditional management hierarchy.
We help implement innovative organisational structures such as Holacracy, Sociocracy.
Our happy customers
"In the end, we take the step from operational excellence to customer excellence,
the best possible customer experience."
Sander Wicherink, Director of Finance & Logistics, CFO Knauf b.v.
Read all our success stories
Contact our experts
We help to address the most urgent business needs and challenges. Our consultants focus on straight impact and maximum efficiency.