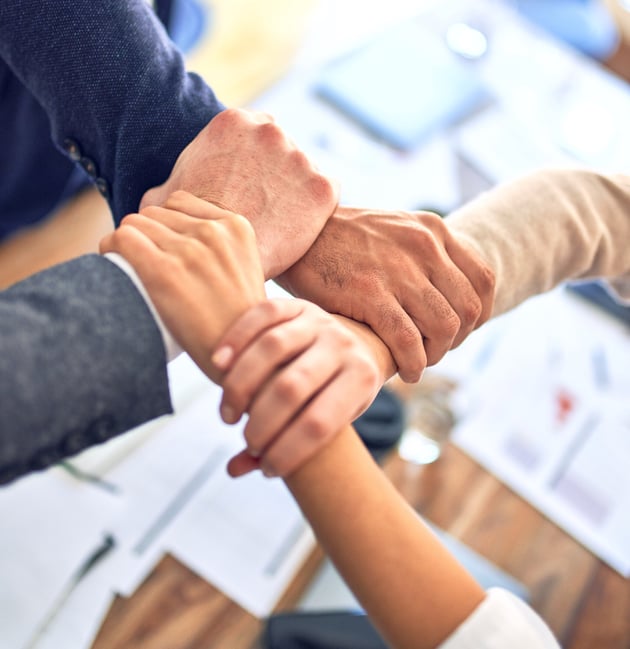 Questioning our care model
More than ever, healthcare is on the verge of transformation. The well-known challenges such as demographic evolution, increase in the number of chronically ill patients, technological progress and financial capacity still pose a threat. In addition, COVID-19 has revealed the strengths and limitations of our healthcare system. Prevention, flexibility, integration of care, a new financing model etc. are levers of the future without discussion.
At Möbius, we have focused on the healthcare sector with a belief in contributing to the 'quintuple aim'. We do not only do this by guiding care institutions in primary care and the second and third line. A fundamental transformation requires a change of behaviour among all stakeholders. This behavioural change will only succeed when we question the systems that determine the dynamics of our care model. Based on a practical knowledge of the field and supported by our experience in change and communication management, we support policy makers in developing and monitoring policy, adjusting the underlying (care) systems, developing strategy and optimising organisational structures. We always do this supported by facts and figures ('health analytics') and in close participation with the stakeholders involved.
Your challenges, our expertise
Our happy customers
"Our project was completed within a very short timeframe. We greatly appreciated the flexibility and effort shown by Möbius' employees during the preparations. Because of their good ideas and especially because of the fine collaboration we were able to organise a successful congress, much to the satisfaction of our participants (and ourselves)."
Sam Van Bastelaere, Head Team Policy and Organisation VAPH
Read all our success stories
Contact our experts
We help to address the most urgent business needs and challenges. Our consultants focus on straight impact and maximum efficiency.
Policy development
Behavioural change is only possible by adjusting policy and steering systems.


Fundamental reformation of the existing care models allows to take full advantage of current challenges (demographic evolution, chronically ill patients, fragmentation of competences ...) and opportunities (e.g. thanks to technological evolution). This fundamental reform can only be achieved by questioning policies and underlying systems (quality, financing ...) in function of the desired outcome.
Möbius assists the government and its policy makers to arrive at new policy objectives, through participation and consultation, in order to be able to translate these into adjustments to the system (e.g. nomenclature, quality, financing ...). We do this by means of large-scale surveys and a participatory approach, by thorough statistical analysis and by comparing different scenarios around desired outcome and costs ('cost-benefit analyses'). Finally, we also provide the necessary communication to increase support and acceptance of the defined policy options.
Read more about our experience:
Operationalisation and monitoring of policy
In a rapidly evolving context, being able to make quick and targeted adjustments is essential.
Policy without monitoring is like going out without a compass. In order to implement policy effectively, it is important to strongly operationalise and monitor it closely. Operationalisation can be achieved by providing a policy framework and setting up pilot projects within this framework. Monitoring is done by conducting health economic evaluations and by developing and continuously monitoring high-quality indicators that continuously evaluate the policy effort and effects.
As a guide of pilot projects, Möbius can offer support in policy operationalisation.
We can also provide support in conducting health economic evaluations, for example based on Markov models. In addition, we are the perfect partner to develop policy indicators and integrate them into an operational policy dashboard that helps to determine which policy options are most effective and how the implementation of policy can be improved. Through smart reporting (supported by tools) and content-based interpretation, the policy maker has the right tools to put a continuous policy evaluation into practice.
Read more about our experience:
Shaping strategy and organisational control
The effectiveness and efficiency of core assignments is largely determined by the way in which we make and steer choices.
Every public service, active in healthcare policy, faces unique challenges. A rapidly evolving landscape places high demands on the policy maker and forces the latter to make choices. Effectiveness and efficiency are key words, especially in a fragmented landscape with many stakeholders. Therefore, it is important as a government department to make the right strategic choices, considering coalition agreements and evolutions in the landscape, to be on the same page and to build an organisational model that facilitates a culture of creativity, resilience and agility.
Möbius supports public services and organisations in defining strategic choices and helps to transform these choices into an adapted workforce and an innovative form of organisation. We do this – depending on the desired objectives – in co-creation with employees, other policy partners, patient associations, involved actors and citizens. We base ourselves on new tools and techniques to enable participation and interaction.
Read more about our experience: