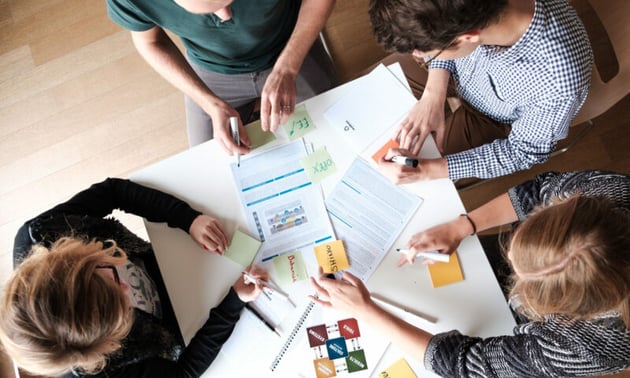 Challenge your status quo with an external point of view
Operational Excellence strives to continuously increase the ability of the organisation to create value in a reliable, consistent and efficient manner.
It develops a strong culture of continuous development, innovation and striving for perfection.
It develops leadership throughout the organisation and mobilises it integrally in realising the strategy.
Your challenges, our expertise
Leadership & Culture
Integrate Operational Excellence in the management processes from management to implementation and improvement.
Make this the engine of continuous improvement and culture change.
Value Streams
Clarify how you create added value for the customer.
Identify bottlenecks and waste; improve lead times and performance; increase flexibility and responsiveness.
Use of BPM, VSM,…
Teamwork & self-steering
Form teams as units to perform the work.
Increase their effectiveness in executing and improving.
Give them the knowledge, resources and skills to operate as self-managing units.
Strategic Workforce Planning
Optimise your workforce with an advanced planning process, based on workload and workload measurements. This ensures an efficient and sustainable use of your resources.
Project and Change Management
Identify and define breakthrough projects.
Achieve results effectively.
Create permanent change in the operation and culture of the entire organisation.
Continuous Improvement
Identify problems at all levels, in all processes.
Address issues with permanent or temporary teams.
Make improving everyone's job everyday.
Use of Lean principles
Our happy customers
"Möbius helped us to set up a compensation strategy for our collection points which is based on fair and objective allocation principles to reach the desired threshold level."
Frank Vanderpooten - Managing Director Valorlub
Read all our success stories
Contact our experts
We help to address the most urgent business needs and challenges. Our consultants focus on straight impact and maximum efficiency.