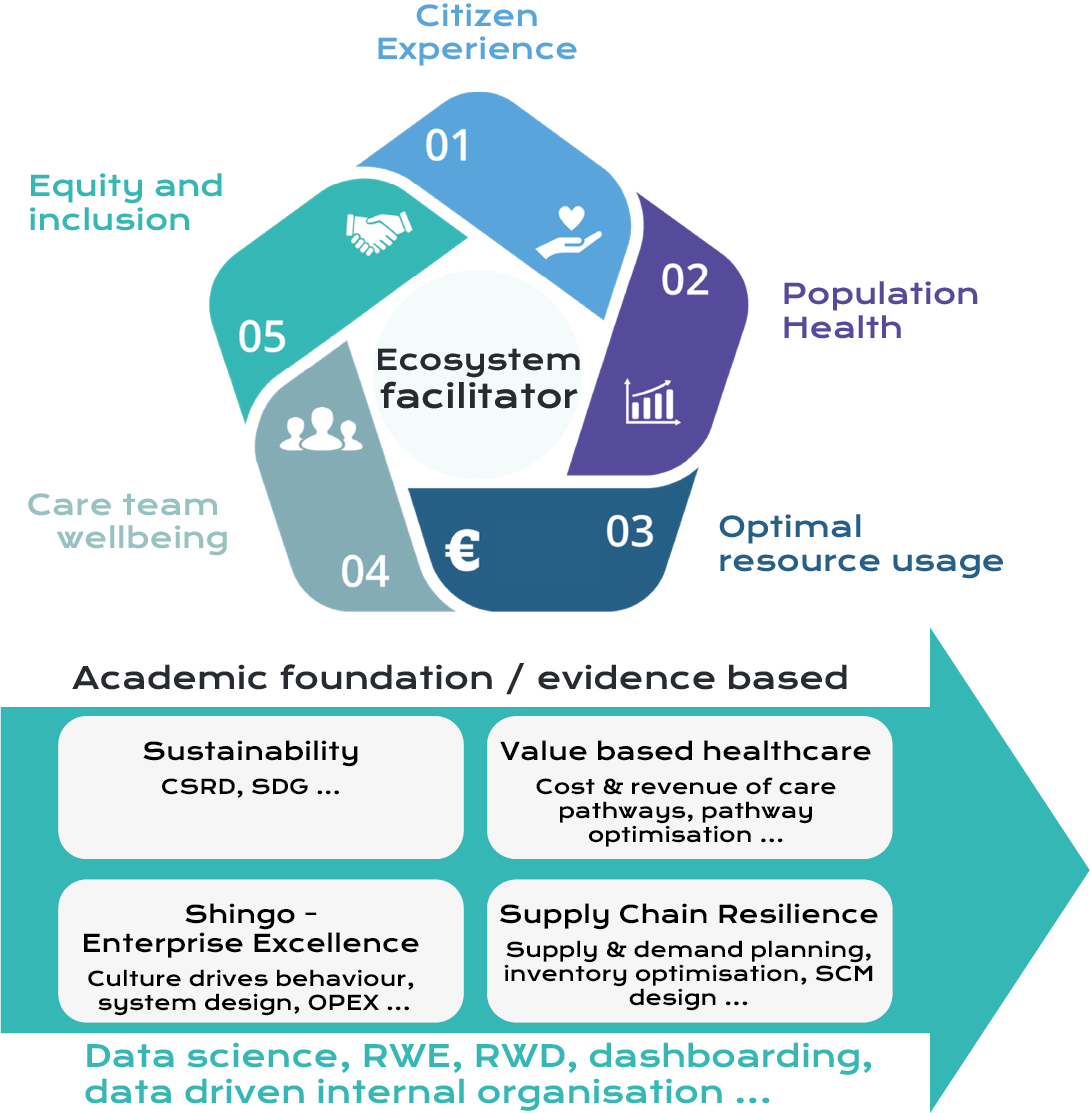 What's your challenge today?
Thanks to our experience in both healthcare and industry, we support Pharma, MedTech, BioTech and BioMedTech companies with the challenges they are facing today.

We are happy to provide guidance for any of the following challenges: value based healthcare, patient support programs, embedding surgical robots, resilient supply chains, operational excellence, Clinician/Patient Reported Experience/Outcome Measures (PREMs, PROMs & CREMs), demanding customers, improving performance with AI & analytics.

Next to our project experience, we engage in healthcare sector research and link these academic insights to pragmatic experiences in the whole continuum of care.
Your challenge, our expertise
Citizen experience

The European Patients Forum defines patient empowerment as 'process that helps people gain control over their own lives and increases their capacity to act on issues that they themselves define as important'. At Möbius we fully align on this definition except for the fact that we like to replace patient by citizen. We like to do so in light of the shift towards prevention and the fact that every citizen should be empowered to take ownership over their lives.

Citizen/patient journeys are a comprehensible way to identify the different interactions of a citizen/patient with the healthcare ecosystem. By mapping out citizen/patient journeys, interesting insights can be derived to streamline interaction with citizens/patients and further enhance their empowerment.

Given the increasing recognition of the patient's perspective, Patient Reported Experience Measures (PREMS) are gradually being adopted in the healthcare ecosystem. Taking into account these additional information, the existing experience can be optimised, quality of care and the performance of the delivery of care can be improved.

The possibilities of digital health in supporting and enhancing the citizen experience are endless, we're happy to help you integrate the right tools on the right moment with the right partners.
Population health

Integrated care: Integrated care initiatives aim at ensuring individuals to receive the right care, in the right place, at the right time. However, integrated care pilot projects demonstrate that existing organisational and financing structures hamper their success. We're happy to help you realise sustainable integrated care initiatives.

Stakeholder management: Typically, we apply a three-step method in engaging stakeholders:

It's important to identify all potentially affected parties and stakeholders. Depending on the objective and context in which stakeholder management is applied, other stakeholders will be involved and the degree of involvement will vary.

Involving stakeholders can be done in many ways, ranging from pure information to active participation. It is therefore important to define the concrete objective of participation and to define it for the different stakeholder categories.

Developing a concrete plan to ensure the intended involvement of stakeholders throughout the project.
Optimal resource usage

Where therapeutic value and clinical effectiveness is determined as a result of conducting clinical trials, we offer expertise and support in conducting health technology assessments (HTA) and budget impact analyses taking into account both direct and indirect effects in a systematic, transparent, unbiased, robust manner.
We tackle market access challenges of new and existing health related interventions: market access barriers, analysing market size and potential, reimbursement and pricing issues, patient access challenges, etc.

As Möbius, we offer comprehensive solutions for outcome measurement in healthcare. Our expertise covers Patient Reported Outcome Measures (PROMS) and Clinician Reported Outcome Measures (CROMS) and Patient Reported Experience Outcome Measures (PREMS) addressing the challenges and capitalising on the opportunities of each approach. Our deep knowledge of both benefits and limitations of outcome measures enable evidence-based decision-making, quality improvement initiatives, and research insights.

In today's job market, resources are scarce and should be optimally used, that's where integrated capacity planning throughout the entire ecosystem comes into play.

With our expertise in commercial strategy and deep understanding of stakeholder expectations, we provide tailored recommendations that optimise resource allocation for maximum efficiency and effectiveness. Our team leverages market insights and industry best practices to develop strategies that not only meet stakeholder expectations but also drive sustainable growth and profitability.
Health team wellbeing

In the post pandemic era, leadership is even more important in health team well-being. Great leadership skills lead to balanced team efforts, increased satisfaction and well-being at work. We have a proven track record in leadership & teamcoaching.

Successful organisations routinely increase the autonomy of their employees. Personal leadership and development is a necessary condition. We have a network of certified coaches and trainers who, together with its clients, shape powerful development programs and interventions.
Equity & inclusion

For the health ecosystem, SDG 3 is the most important one: "Ensure healthy lives and promote well-being for all at all ages". We're familiar with SDG targets & indicators and happy to hear how we can jointly reach them in order to ensure health equity.